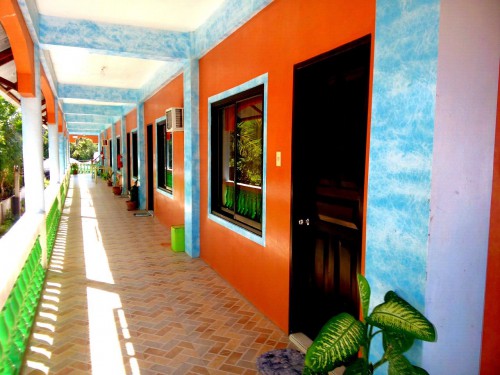 Jun and Carol Beach Cottages offers good room accommodations for overnight stays. All rooms are air-conditioned and with individual toilet and bath. JCBC can ideally accommodate 136 persons but when with extra beds, it can maximally accommodate up to 175 persons.
It has 6 beach houses for a total of 30 rooms.
The first one that was erected was the two-room cottage. The whole cottage can accommodate 8 up to 10 persons. It has a wide and spacious terrace.
The second building is the 7-room beach house. There are three rooms at the ground floor ideal for families. Rooms G1 and G2 can accommodate 4 adults and 3 children (has 3 matrimonial beds) or a group of six adults while four occupants each at room G3 (2 matrimonial beds per room). There are 2 rooms at the second floor and 2 attic rooms at the third level. One of the attic rooms has a private verandah. Here, the visual feast is no less spectacular. It is an exclusive and romantic hideaway.
The third building is the 5-room beach house. Restaurant at the ground floor, 4 rooms at the second floor and a single room at the third level with private terrace.
The fourth building is the 14-room beach house. There are seven family rooms at the ground floor and seven rooms also at the second floor. The fourth building can ideally accommodate 75 persons.
The fifth and sixth buildings are single room cottages. Room K1 can ideally accommodate 4 persons while K2 can accommodate up to 8 persons. All rooms are equipped with towels.